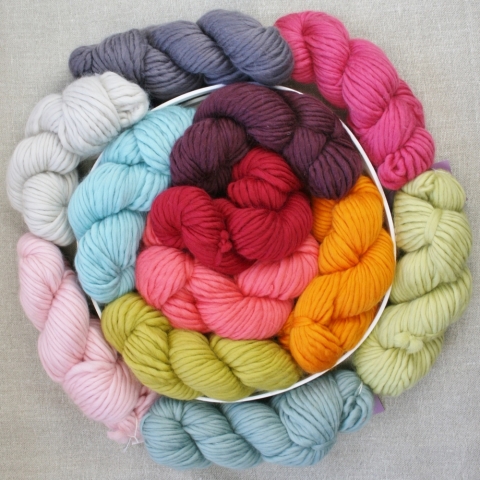 At the end of last week we had the most exciting delivery we have ever had at Mrs Moon, and possibly the smallest!  14 perfectly formed hanks of the softest super chunky yarn imaginable... and they just happen to be ours!  Our very own Mrs Moon yarn which we've called Plump
We have been planning for Plump since last May.  A LOT of thought has gone into it and we are SO pleased with the result!  We wanted to create a yarn that is super chunky but also very soft and snuggly, which is oftern not the case with super chunky yarns.  Plump is a mix of ethically sourced Australian superfine NewMerino and baby alpaca.  It feels like a cloud!
It has been dyed and spun here in the UK.
We have chosen a beautiful palette of colours and continuing on the Plump theme have named them after some of our favourite sweets and treats...  can you work out which colour is which?  In the picture here we've got, amongst others, damson jam, pistachio ice cream, bonbon, raspberry ripple, cherry pie, marmalade, fondant fancy, rhubarb crumble.....