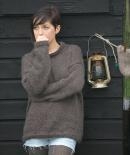 It feels really wintry in Mrs Moon today and this is backed up by the number of people buying wintry projects.  It's been a good week for our Cocoon sales....
We saw all the new Rowan A/W lines yesterday which also got us in the mood for all things Autumnal.  There are some fabulous fairisle designs coming in and also some lovely new yarns to snuggle up in. 
To be honest, at the moment I feel like ditching my summer knit that is on the needles and doing something thick and woolly instead...  WHERE IS THE SUMMER???