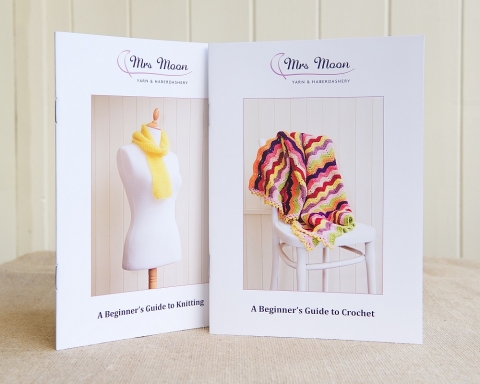 Teaching knitting and crochet is almost a full-time occupation at Mrs Moon.  We meet lovely people week in week out who want to start off on their knitting and crocheting adventure. It gives us an enormous amount of pleasure, especially when they come back again and again as their confidence grows and they take on more and more projects.... and inevitably start teaching us a few things!
We could probably run classes in our sleep by now and have produced guides that run through the classes step-by-step so that those who can't make a class can have a go on their own.  The guides include patterns for first projects and start from the absolute basic point of making a slip knot... a very good place to start!
We've got kits for the whole shebang or you can buy the guides individually for just £7.00.  Great gift idea or something to pack to take away to the sun over the summer.... far lighter than a suitcase of books!