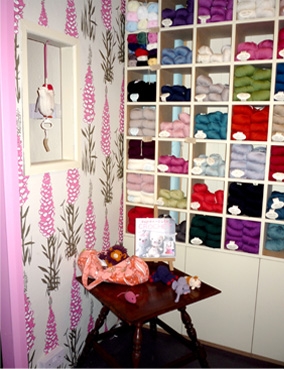 Wow, what a couple of weeks! We've been completely overwhelmed by all the good wishes from our lovely new customers. Thank you so much to everyone who has come in (some of you many times) and spent some time with us.
We have lots of new things in stock. Brittany needles have come in and virtually gone again - they've been so popular with SW London knitters. I wanted to let you know about some of the other things that we have in stock ... we're not just for knitters.
We've loads of haberdashery including beautiful VV Rouleaux ribbons - from classic satins and velvets to giant bobbles and wired organza. Clothkits have brought squeals of delight from those who remember wearing them as well as those who remember making them and there is a wholenew generation out there about to get kitted up in their designs.
Clothkits also have some Liberty print bias binding that has been a real favourite as well as giant ric rac... what couldn't be improved by giant ric rac?
Kid's gifts from Buttonbag and Blueberry Park are very popular and we're in the process of putting together Mrs Moon kid's kits for inspired Christmas presents. Also Mrs Moon kid's kits for inspired Christmas presents. Also for smaller kids (well, babies) we've got lots of Anne-Claire Petit toys and have treated ourselves to the rather luxurious crocheted Bird Cage... see our window....
We had a lovely visit from Jane Brocket yesterday. We love her books and blog and hope that she liked our little bit of St Margarets heaven.http://yarnstorm.blogs.com/jane_brocket