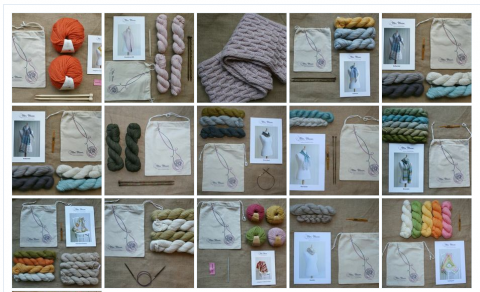 We've been busy creating gift kits ready for Christmas (and beyond) this week.  All the kits come with the yarn and needles or hooks needed for our favourite projects, plus a Mrs Moon project bag and the pattern, all wrapped up in a lovely buff box tied with ribbon.
As you can imagine, with the various colour combinations, that's quite a bit of photographing and I was just updating our dropbox folder with some of the latest pics and this is what I saw!  Doesn't it beautiful... ?  The kits pictured include our beginners knitting and crochet kits, Strawberry Hill, Riverdale and Godstone, but I think it's the overall effect of the thumbnails that looks so cool!
If you've been wanting to splash out on a special project, this is a great way of making sure you get exactly what you want ... send your loved ones our way!