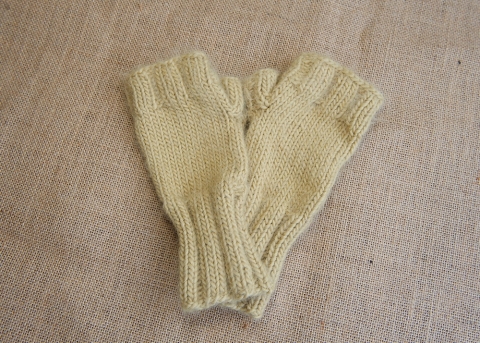 The second the temperature drops below something like 16 degrees, my hands (which aren't that great at the best of times) turn into craggy old lady hands and I need an emergency pair of gloves or mittens to protect them from getting any worse (that and a supply of Clarins hand cream... other hand creams are available)
So to combat this hideous weather I knitted up this pair of super-easy, basic fingerless mittens in a couple of evenings.  It meant that the very next day I had one mitt ready so could carry things in one hand but not the other and then just one day later had both hands covered.
They are a great gift for someone and will be very gratefully received.  I've used Blue Sky Alpacas' gorgeous Suri Merino... incredibly soft and warm, not too fluffy, not too thin, but any aran weight yarn would do.
To knit a pair yourself you will need:
4.5mm circular needle (for magic loop) or dpns
1 skein Suri Merino (I've used harvest)
Cast on 30 stitches and join in the round placing a marker at beginning.
Round 1: *K3, P2 repeat from * to end
This sets a 3x2 rib pattern.  Repeat round 1 until rib measures 9cm (3 1/2 inches)
Now work in stocking stitch for 13 rounds
Thumb opening:
At beginning of next round, place first 4 stitches onto a holder (or scrap of yarn), then using backward loop cast on, cast on 4 stitches.
Continue in stocking stitch for 11 more rounds.
Now work in 3 x 2 rib again for 9 more rounds and then cast off in rib pattern.
Thumb:
Using dpns, knit across 4 stitches on holder.  Now pick up and knit 11 more stitches around the thumb opening putting 5 stitches each on 3 needles. Work 8 rounds of K3, P2 rib, then cast off in pattern.
If you are using Suri Merino you will have plenty of yarn to make any part of the mitten longer if you want too. 
See?  Easy, wasn't it!  Now make another glove in exactly the same way... no need to worry about right or left hand, it will work out whatever, I promise!