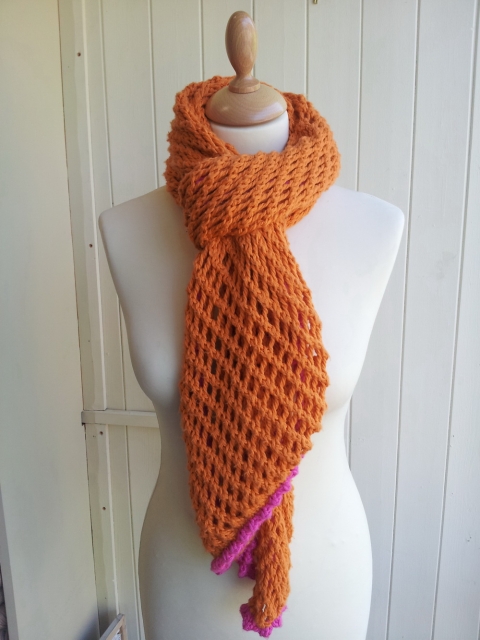 My criteria for the perfect summer scarf:
Must be warm (in case the sun goes in)
Must be quick to knit (before the sun goes in)
Must be colourful (to cheer you up when the sun goes in)
Must be made of cotton (to differentiate it from a winter scarf)
And voila!  Here it is.  Practially perfect in every way.  So quick, chic and satisfying, that I'm making more... (unheard of for me!).  The Blue Sky Worsted Cotton is just the softest cotton imaginable and comes in the best range of summer colours.  With 20 different colours in stock, there are loads of combinations to try. 
The pattern is a great project for new knitters as it uses some basic techniques again and again and again, so by the time you've finished, you'll be amazing at them.  I've knitted picot hems at either end as you go, but you can easily just slip stitch these hems at teh end if you prefer.  All instrucitons are included.
As the pattern only needs a small amount of the contrast trim, it might be an idea to knit two scarves, reversing the colourway.  You will need two skeins 0f each colour in this case.
If you'd like to have a go, you can get the pattern, named Godstone, here.