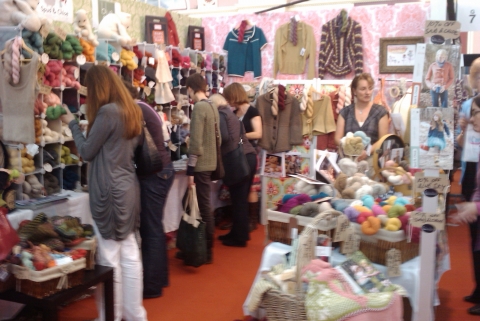 We tried to take a little bit of St Margarets to Ally Pally last week and hopefully it worked.  The Knitting & Stitching show was something new for us and we were a bit nervous about it, but we had great fun and thoroughly enjoyed ourselves (most of the time)!
Tim took Susan and I up on Wednesday for set up - it took us much longer than we'd hoped and Tim had to get back to Twickenham for school pick up so Susan and I were alone lugging stuff around for most of the afternoon.   The only thing we had forgotten was white tablecloths and it turns out that no one sells them in Wood Green.. .we should have gone with the intial thought of heading back along the north circular to John Lewis at Brent Cross, but instead, Tim had a great tour of all the chains in Wood Green High Street...  Argos came up trumps in the end!
Despite a few technical hitches trying to get the shelving up and having a fight with the clothes rail, everything was just about there by the time we hit the Piccadilly line at 7pm - just enough stuff left to do for Kate to feel useful in the morning!
Up early on Thursday and this time Kate was our chauffeur.  Her buttons were a really bit hit at the show which was brilliant.  We introduced loads of people to blue Sky Alpacas and Spud & Chloe and the discerning buyers also loved fyberspates and Malabrigo.
We had visits from Jane Brockett, Debbie Bliss, Erika Knight, Claire Montgomerie, Kate Haxell and lots of other lovely people.  Special mention has to go to Fiona who brought us tea in our hour of need.
Saturday was bonkers and really great fun - we were totally exhausted - I could hardly concentrate of Strictly Come Dancing, it was that bad.
All in all a success and we've booked again for next year so will be ready next time... hope to see you there.