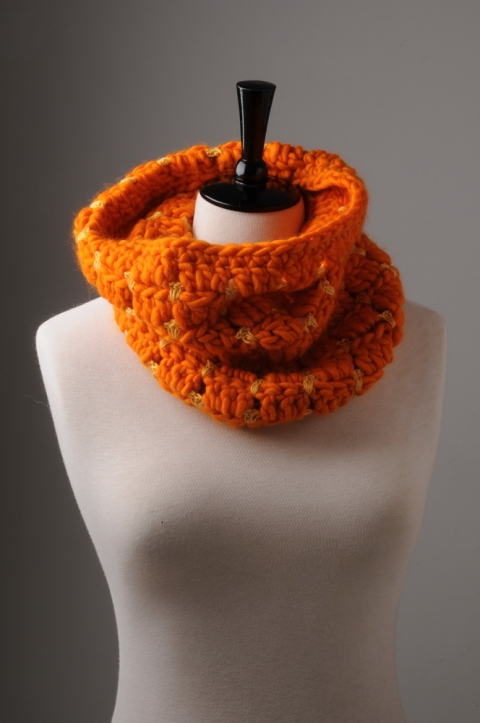 This cowl is simply stunning.  It oozes luxury and could be all you need to look damn gorgeous this winter! 
You will need:
2 skeins of Plump shown in Marmalade
1 ball of contraast fine  yarn (we've used a metallic yarn here and a 4ply alpaca silk in another colourway)
What to do:
With Plump and 10mm, ch 48 (or any multiple of 3) and join with a slip stitch being careful not to twist the foundation chain.
Round 1: ch3 (counts as tr), tr into each ch to end, join with slip stitch to top of ch 3.
Round 2: change to contrast yarn and 4mm crochet hook (join at any point between two trebles.  Ch3 (counts as 1 tr) work two more trebles into the same place.  *Ch5, skip 3 tr, work 3 trs into space between next two trebles, repeat from * to end of round.  Fasten off yarn and sew in the end.
Round 3: change to plump and 10mm hook.  Join at any ch 5 space. Ch3 (counts as 1tr) 2tr into same space, work 3 trs into every ch5 space to end.
Repeat rounds 2 and 3 (weaving in ends as you go)
Once you have 7 rounds of Plump treble rounds, work a round of doubles using Plump into each treble.