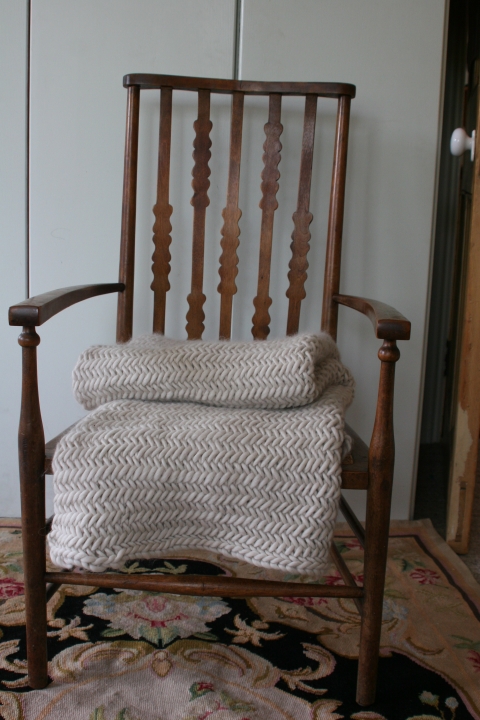 Herringbone stitch is a thing of real beauty and seems irresistable to touch.  It is a bit fiddly initially, but creates an incrediby beautiful effect and is dense, squishy and warm.
Whatever yarn you are using for herringbone stitch, you need to use a much bigger needle size than the normally recommended one.  My blanket is knitted using Mrs Moon Plump yarn and to get the desired effect I have used 20mm needles.
The up side to using 20mm needles, is that it grows very quickly...  the downside however is that it is very difficult to knit in public without getting lots of odd stares and questions and it is not that portable.  I knitted a lot of this on a return train journey to Swansea... you need to know the person you're sitting next to as elbows might go flying!
The throw shown measures 84cm x 151cm
To make your own, you will need:
10 skeins of Plump (shown in clotted cream)
20mm knitting needles
What to do:
Cast on 80sts VERY loosely (in fact keep your knitting lovely and loose otherwise you will get in a terrible pickle)
Row 1 (RS): ssk but leave the second stitch on the needle,* move this stitch onto your right hand needle and slip the next stitch knitwise, now knit these two together as if doing a ssk again, leaving the second st on the needle, repeat from * to the last stitch , knit
Row 2: *P2tog leaving the second stitch on your needle, repeat from * to the last stitch, p
Repeat these two rows until you have used up all your yarn (with enough for casting off).  Cast off in pattern
Carefully sew in your ends.
For a video tutorial, click here