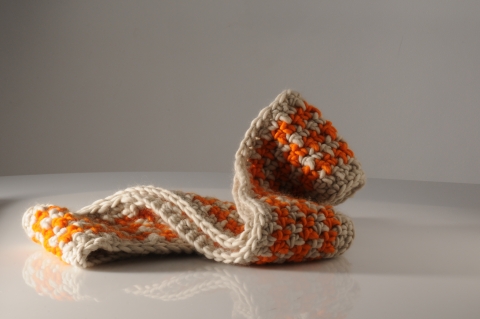 This is a lovely and simple crochet cowl made simply by alternating doubles and trebles, this creates a really nice texture and could be just done in one colour, but by changing colour every row it gives a very effective and trendy houndstooth effect.  Mrs Moon's Plump yarn comes in a wonderful palette of 14 colours, try a contrasting colourway, here I have used 'marmalade' and 'clotted cream' but you could take a softer approach, clotted cream combined with fondant fancy or peppermint cream would be lovely and  very subtle.
The pattern here allows for the cowl to loop twice around your neck (you maybe able to still do this with 81 stitches and have a deeper cowl as mine is quite loose), alternatively you could make it smaller to fit snuggly once around, this is on my to do list (this will take 2 skeins), just remember you just need an even number of stitches, add 1 more on the base chain as you tend to 'lose' this when you join the chain in the round.
You will need:
2 skeins of Clotted Cream
1 skein of Marmalade
10mm hook 
What to do:
Using Clotted Cream make a ch of 91, join it with a sl st to the first ch to form a ring (be careful not to twist the chain) 90 sts.
Round 1: ch3 (counts as 1tr), miss st at the base of ch3, * work 1dc into the next st, 1tr into the following st, repeat from * to the end of the first round, alternating dc and tr, finish with 1dc into the last ch, join with a sl st to the top of ch3.  Fasten off.
Round 2: Change to Marmalade, (continue working the same way). Ch1, 1dc into the same place (ch3 from previous row), 1tr into the next dc, 1dc into the following tr, continue in the same way alternating sts to the end of the round, you should be alternating sts on top  of the previous row ie dc into tr and tr into dc.  Finish this round with 1tr into the dc, join with a sl st to the first dc. Fasten off.
Continue repeating row 2 and 3 until you have completed 4 rows rows of clotted cream and 3 rows of marmalade, then work 1 row dc in clotted cream, fasten off. Work one row of dc atound the bottom edge in clotted cream.  Fasten off and weave in ends.