If you are new to knitting or crochet, or just haven't come across yarn in a skein before, you might wonder how on earth you are supposed to knit from it!  The most important thing is don't knit fr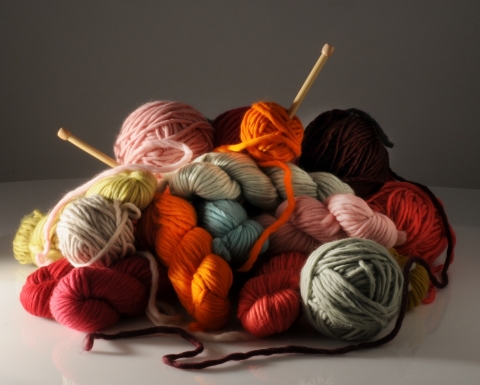 How to wind a skein into a ball
If you are new to knitting or crochet, or just haven't come across yarn in a skein before, you might wonder how on earth you are supposed to knit from it!  The most important thing is don't knit from it as it is!  Even if it is only 10m of yarn, I promise you it will get ridiculously tangled up!  You simply need to wind the skein into a ball yourself either using a swift and winder, or by hand. 
Winding into a ball is an extra process in the manufacture of yarns.  Although it is lovely an convenient to buy yarn this way, you'll often find that yarns made of more expensive fibres will come in skeins (also known as hanks).  This is mainly to try to keep the cost down, but also there is something rather lovely looking about these little 'baguettes' of fibre!
Unless you are regularly winding huge skeins of fine yarn, I wouldn't worry about buying a winder, just enjoy this centuries old process and do it yourself!  This video of Susan and I winding a ball of Plump, hopefully it will give you an idea of how to do it yourself!