Back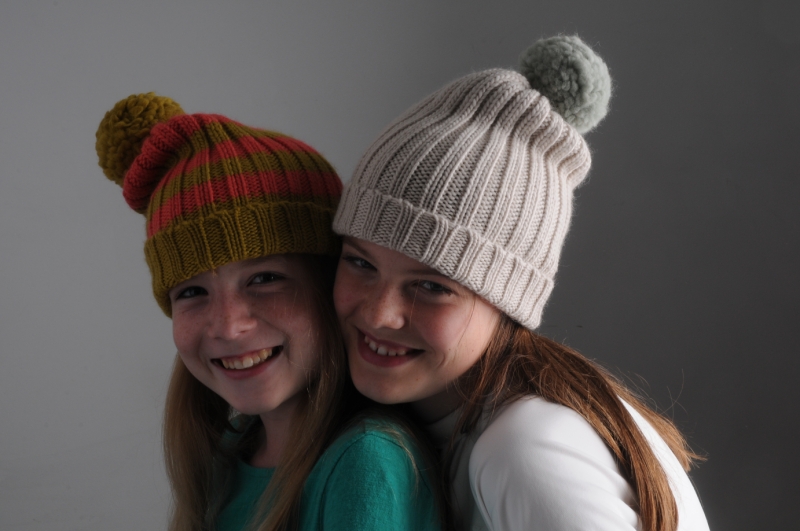 Simple Rib Hat
£3.50
This hat is completely basic and completely perfect!  The hat is simply a double rib so can fit anyone, child or adult.  You can either wear it with the bottom turned up, or leave it down and sloppy.
The pattern is written for knitting flat and in the round, so choose your preferred method.  Have fun with colours  - you can use a contrast colour for the rim, or stripe in different colours on the main body of the hat.  And of course you can finish it off with a pom pom!
You just need 2 skeins of Plump DK and the pattern which you can buy form the tab above.
You will need 4mm and 4.5mm (US6 and 7) knitting needles (either straights of 40cm circulars if knitting in the round).
Plump dk is a pretty standard doubleknit or light worsted weight yarn.   We have used it for straight double knit projects as well as projects specifying an aran weight yarn and found it works well for both.  Any needle size from 3.75mm to 4.5mm is great.
Ballband Tension (gauge):
Using a 4mm needle over stocking stitch: 22 sts to 10cm and 30 rows.
We really recommend not getting too stressed about exact tensions.  Everyone knits differently and your knitting tension can even change with your mood!  If you have found a yarn you really like and it's in the right ball park, why not buy a ball and give it a go?  Try a slightly different needle size if you are way off the right tension.  If you are putting all the effort into knitting then best to use a yarn you love!
If you want any advice, drop us a line at [email protected] 
We recommend gently spraying your finished garment with water and allowing to dry naturally before wearing.  This 'sets' the fibres and reduces shedding which can happen with roving yarns.
If you want to block your finished project, do so carefully.  Because of the natural sponginess of Plump we find that pressing isn't really necessary but you might like to if you have used plain stocking stitch (this removes the need for spraying the garment as above).
Anything that has a raised stitch structure (like rib, garter stitch) should not be ironed as you will press out the beautiful texture.
Washing
When your garment needs washing (hopefully not much!), use a specialist wool detergent and hand wash with care. Dry naturally and flat.
Any queries, just drop us a line at [email protected]
UK
Shipping is £3.95 to anywhere in the UK regardless of size.
All our orders are posted by UK first class mail.
EU & Europe
For all orders to the EU & Europe shipping is £9.50.  Local taxes may apply.
Orders are sent by UK first class mail
USA, Australia, NZ and rest of the world
For the rest of the world, shipping is £20. Local taxes may apply.
Orders are sent by UK tracked and signed first class mail.
Returns
We will happily accept returns or exchanges within 28 days.  Please drop us a line at [email protected] if you plan to send anything back so that we can deal with your request.  Please note that we can only accept unused yarn, still in the skein (ie not wound into a ball).  Further information is available at our terms and conditions.