Back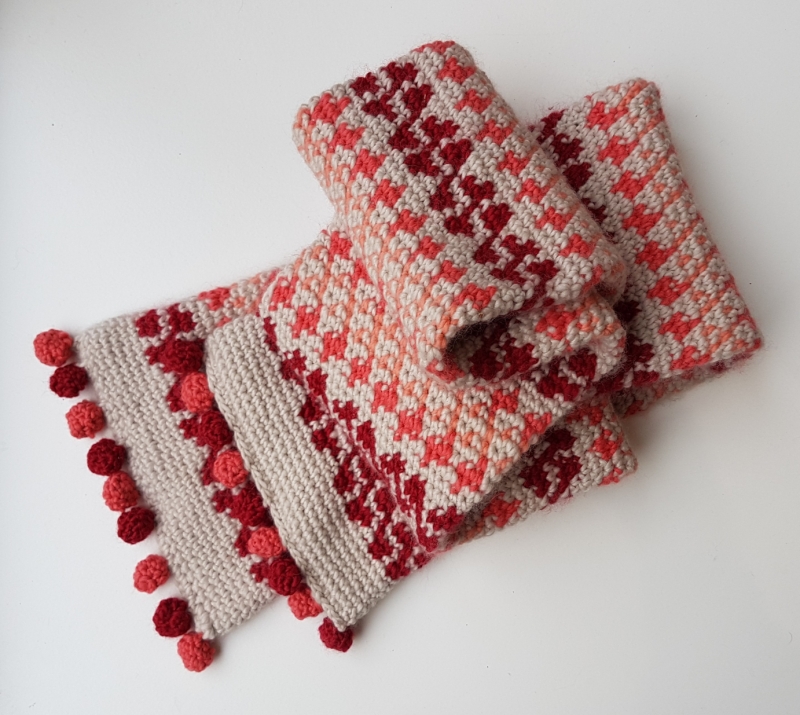 Fair Isle (Suprise) Crochet Scarf
£4.50
This scarf is the amazingly warm! Made using Plump DK it is crocheted in the round so there is no visible wrong side.  This also means it's double thickness – super cosy! The 'surprise' is that my scarf does not look like the chart (included with the pattern), more an abstract version of it! Having read around the subject, this is all down to the way I crochet.  Depending on how you work, you might get a scarf like mine shown, or a pattern like the chart.  However it turns out, it is a really enjoying project and the bobbles add a fun element.  
You will need: 
Plump DK in the following quantities;  
Main colour (MC) - Pavlova  x 4, Contrast Colour 1 (CC1) - Cherry Pie x 2,  Contrast Colour 2 (CC2)- Rhubarb Crumble x 2,  Contrast Colour 3  (CC3) - Marshmallow x 1. 
4.5mm hook 
Measurements: 157cm x 18cm 
Washing
Plump Superchunky and Plump DK are made from the highest quality superfine merino and baby alpaca.  These really are special and luxurious fibres and should be treated carefully!  Having said that both yarns are suitable for delicate hand washing.  Use a specialist detergent and do not agitate or twist the fibres to retain the gorgeous softness and shape of your garment.
Shedding
Because of the roving nature of our yarns (they are single ply, rather than tightly twisted), some shedding may occur.  The best way to deal with this is spray your finished garment with water and leave to dry flat, naturally before the first wearing.  This sets the fibres and should stop any problems.  If you want any further advice just drop us a line at [email protected]
Using your yarn
All our yarn comes in skeins.  Before using you need to wind the skein into a ball or you will get into an awful tangled mess!  If you are not sure how to do this you can watch our video here!
UK
Shipping is £3.95 to anywhere in the UK regardless of size.
All our orders are posted by UK first class mail.
EU & Europe
For all orders to the EU & Europe shipping is £9.50.  Local taxes may apply.
Orders are sent by UK first class mail
USA, Australia, NZ and rest of the world
For the rest of the world, shipping is £20. Local taxes may apply.
Orders are sent by UK tracked and signed first class mail.
Returns
We will happily accept returns or exchanges within 28 days.  Please drop us a line at [email protected] if you plan to send anything back so that we can deal with your request.  Please note that we can only accept unused yarn, still in the skein (ie not wound into a ball).  Further information is available at our terms and conditions.